Photographs of the original Charles Towne Landing State Park, Circa 1970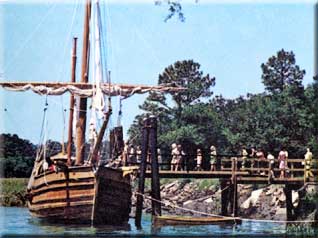 CHARLES TOWNE LANDING: Originally opened in 1970 to commemorate Charleston's tri-centennial, Charles Towne Landing is the original cite of the first permanent English settlement in South Carolina. This 80-acre state park showcased animals indigenous to the state in 1670, with exhibits designed by naturalist Jim Fowler. You could see alligators, bobcats, bison, foxes, white tailed deer, pumas (cougars), and bears. There was a 17th-century village typical of what the original settlers might have constructed. There is also a 53 foot replica of the trading ketch "Adventure", a vessel typical of what the young colony would have used for conducting trade on the eastern coast and in the West Indies. You could board the vessel and go below to see where the crew of six slept. My wife worked at the park as a teen in the late 1970s.
More than 35 years after it originally opened, Charles Towne Landing State Historic Site has been re-born, a seven-year, ongoing effort that has re-shaped the pivotal landmark's ability to share the story of the birthplace of the first permanent European settlement in the Carolinas.
Once again, the Charleston experience begins at Charles Towne Landing, the spot where English settlers, recruited to extend the mercantile success of the British Empire in the Caribbean, sailed from Barbados in 1670 to establish a foothold on the secluded banks of what is now Old Towne Creek just off the Ashley River.
See the official website or maps, features, and hours of operation:
Charles Towne Landing State Historic Site (opens in a new browser window)