Home
AWARDS
MISSION
DUAL DOGS
DUAL BITCHES
PUPPIES
HISTORIC DUALS
INFORMATION
FIELD MENTORS
TRAINING
CONTACT US
ABOUT US
ABOUT US
Dual Weimaraners Program was an idea brought to realization by these ladies who are concerned about our breed splitting into extreme show or extreme field:

Elena Smith Lamberson, Johns Island, SC. I started with some pet Weims in the mid 1970s and got my first show dog in 1978. I learned about show, retrieving, and tracking with April. My first field dog was in 1979 and I learned about obedience and field with Tide, who became a FC (back then, a dog with 13 titles was a LOT!). I have trained thru MH, RDX, SDX, UD, TD & bred many US show Ch with field titles. I have been an AKC Hunt Test judge since around 1991. I have chaired many show and field events. I am a founder of the Gr Charleston Weim Club and am active with Weim Rescue for South Carolina.

No matter where you are with your Dual Weimaraner, you have to start somewhere and we all started out knowing nothing. We hope to help you appreciate the versatility of our wonderful breed with our emphasis on both show and field titles. www.silversmithfarm.com
Contact: eslamberson@msn.com

Anne Tyson Snohomish, WA. I have had dogs all my life but grew up
showing and competing with horses. In the late '90s I became interested in dog events and rescued a Brittany and English Setter that I competed with in agility. I also got involved with hunting through a local NSTRA club, bought my first shotgun and headed for the chukar hills of Eastern Washington. I got my first Weim in 2002 from Regen Weimaraners and soon after joined forces with Regen founder, Judi Voris. I currently have three Weimaraners including the first Quadruple Champion Weimaraner. My passions are field events and obedience but I train and compete with my dogs in all venues. aktyson@earthlink.net


Leslie Like
-
Hillsboro, Oregon
. I started in Weimaraners 13 years ago with a pet from a show litter. As I became more familiar with field events I became aware of the conformation needed for a dog to function properly and have pointed my breeding program in that direction. I've finished 16 show Champions, one Field Champion and one Amateur Field Champion. I am the founder of Oregon Weimaraner Rescue and been a member of WCA and WWC since my first year in Weimaraners. I've chaired 3-5 field events per year and been involved with all breed organizations in helping develop Field Trial and Hunt Test opportunities for the Pacific Northwest. Judging Field Trials and Hunt Tests all year long keeps me in the saddle watching and learning. I am involved in the Dual project in an effort to help steer our breed back to the purpose it was created for.
silverrain@yahoo.com
Liz Krupinski. Elizabeth, CO Liz passed away on March 15, 2010 We are grateful for her knowledge,kindness and help with starting our group.
I started in Weimaraners in 1992, after a long period of admiring them from afar. I grew up doing limited upland bird hunting, but lots of small game hunting. We had beagles for working and rough coat collies for playing. I met my first GSP and a weimaraner when I was in college, but it was the weimaraner that made an indelible connection to me. It was another 15 years before I was ready to add a dog back into my life, but without hesitation it was a Weimaraner.

I quickly learned how to show my dog and started my education of the breed by joining our local Weimaraner club, the Mile High Weimaraner club of Denver, and the WCA. It was through my local club, and Sue and Charlie Williams, that I became motivated to once again pursue upland bird hunting and begin work on AKC hunting titles and WCA ratings. I became hooked and couldn't be happier to find such a versatile breed that adds much joy to my life.

My dogs have achieved AKC and International bench champion titles, Best in Show and Best in Specialty awards, all levels of AKC hunting titles, WCA ratings of NRD, RD, NSD, SD, and SDX. We dabble in obedience and agility and we hope to add more than our Rally titles when time permits. My first truly competitive dog was from the Bavarian Mist line and while I've worked with Valmar, Graceland and Win Weim, my line is named Monterra and my goal is to preserve and enhance the versatility of this remarkable breed.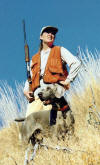 Carolyn Mehl - Seeley Lake, MT I have been involved with Weimaraners for 23 years. My primary activity with my Weimaraners is hunting. Living in Montana gives us a great opportunity to spend many hours in the field each fall upland bird and waterfowl hunting with our dogs. I also participate in AKC hunt tests, conformation, NAVHDA, and I am also an AKC hunt test judge. I am very concerned about the steady decline in bird hunters involved with Weimaraners that I have observed over the last 20 years. I am hopeful that with the dedication of people like Elena, Anne, Leslie, and Liz, as well all those that will support and participate in the dual Weimaraner program, that the versatile Weimaraner will return to the field where it belongs. carolyn_mehl@emri.org
We are Weimaraner fanciers from all over the United States and even have friends in other countries.
We have a wide array of experience in show and field. Some of us have our first Weimaraner puppy and are eager to learn all about show and field. Some of us have show dogs and want to train them for higher level of field titles. Some of us have field dogs and want to improve conformation. Some of us are show, field, hunting test, obedience or tracking judges.
We are all here for you; we want to share our knowledge, broadcast your wins and brags and plan Dual litters!
We are on Facebook: Dual Weimaraners Of USA